Visit Luberon,Villages,historical and natural places,video,Photos and virtual tour 360 °
Choose a city or Village by clicking on the photo, or visit, Serie 1
Choose a city or Village by clicking on the photo, or visit, Serie 2
Le Luberon,est un massif du Vaucluse et un parc Naturel Régional
Luberon
The Luberon is a French mountain range of low foothills that extends from east to west between the Alpes-de-Haute-Provence and Vaucluse department. The massif is over 60 km long with a width of about 5 km and its highest point is Mourre Negro, rounded top which rises 1,125 meters above sea level in the Luberon, is limited by the Calavon and the Monts de Vaucluse to the north and south Durance. Four cities have grown so Apt north, west Cavaillon, Pertuis and Manosque in the south east.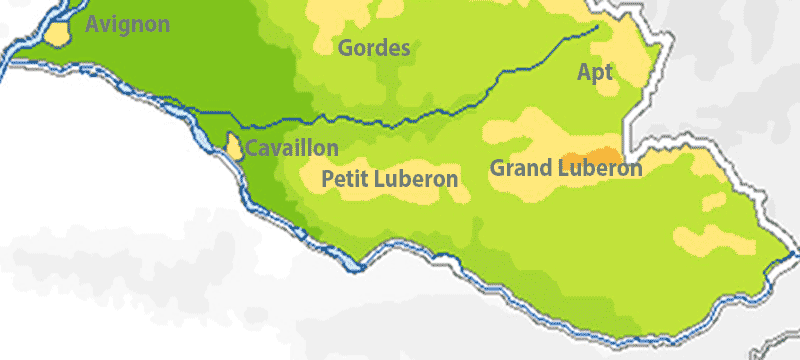 Its limestone terrain and climate provide him a wide variety of ecosystems and have always held relatively far from major events in history while being the source of a diverse economy.
the Aiguebrun's creek crossing the mountains of north to south between the Petit Luberon Grand Luberon. It dug a valley which is called the Combe de Lourmarin
Video
it ''s on the south side along the Durance whole massive east to west starting from Manosque, Pertuis down to up Cavaillon to reach its mouth on the Rhone to Avignon .
"Le Petit Luberon", in turn, corresponds to the triangle Cavaillon , Apt , Lourmarin , south of the Calavon valley between the Monts de Vaucluse . This triangle, located in the part of the massif west of the Lourmarin valley , begins at a height of 110 meters and rises to a height of 727 meters, Draille amount of the Luberon at Robion Several trails allow the discovery of Luberon. Some are reserved for walkers, mountain bikers and horse riders.One can thus observe the transition of National Trails GR 4, 6, 9, 92 and 97
At the foot of the southern slope, located in the communes of Cabrières-d'Aigues and La Motte-d'Aigues The pond Bonde is the only lake in the south, with a diameter of 500 meters, a area of 30 hectares and a depth of 2 to 5 meters, Above the latter, the torrents and Pissay No Oulle meet and their course, diverted from the Ourgouse stream, feeding the pond since the fifteenth century. The aqueduct that supplies was built by Fouquet Agoult to constitute a reserve of water for the castle of La Tour-d'Aigues which is now managed by the company Canal de Provence. Water not drinkable, used for irrigation, and it is possible to enjoy swimming there,