The Vaucluse Historical place: Senanque diaporama, et video de l'abbaye
Cistercian Abbey of Senanque located in Gordes, Luberon Vaucluse,
,France 84
Histoiry
Tucked in the hollow of his valley, the sénanque abbey remains as one of the purest witnessed the early Cistercian architecture There are nine hundred years, a great spiritual renewal movement born of the Abbey of Citeaux, New Monastery, in Burgundy, is the origin of the foundation of over seven hundred Cistercian monasteries during the Middle Ages in Europe. Saint Bernard is the figurehead of the new monastic order ..
Cistercian monks, united in the simplicity and observation of the Rule of St. Benedict (sixth century) found in full force, leading a life of prayer and work in their abbeys. These monasteries are always located in very remote places, as is Sénanque. Their community life is punctuated by seven boards a day, since the middle of the night to night. Their work is manual, primarily agricultural. There are helped by lay brothers
KEY DATES OF SENANQUE 
1148: Foundation of Our Lady of Sénanque by Cistercian monks from the Abbey of Mazan in Vivarais. The construction lasts a hundred years.
1178: consecration of the church by the bishop of Cavaillon. In an abbey, the church is the first building to be constructed after provisional residential buildings. XIII - XIV century: Apogee monastery with four mills, seven granges and many land in Provence.
1509: First commendatory abbot.
1544: Wars of Religion. The monastery is devastated, the lay of the destroyed building.
1791: Revolution: sale of the Abbey as a National.
1854: Purchase and restoration of the Abbey by Dom Barnouin, relocation of a community of Cistercian monks of the Immaculate Conception.
1903 Laws on religious congregations: the monks were expelled from the monastery.
1926: Takeover of convent life.
Visit the site of the abbey 
1969: Departure of monks to their parent on the Ile Saint Honorat of Lérins in front of Cannes. Sénanque becomes a cultural center for almost twenty years.
1988: Renewal of vocations to the Abbey of Lérins, which sends a new small community of monks at Sénanque, thereby reviving centuries of Cistercian tradition.
1998: 850th anniversary of the foundation of Our Lady of Sénanque
OTHER ABBEY DE PROVENCE:  ABBEY SILVACANE IN BOUCHES DU RHONE AND THE ABBEY OF THORONET IN THE VAR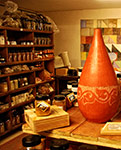 Video Galleries
Village des bories Gordes
More about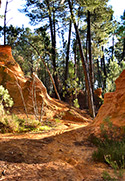 Photos
See the Cistercian Abbeys of Provence 
l'Abbaye de Silvacanne
L'Abbaye du Thoronet ,Var
More about