The Vaucluse: Vaison Roman city,Provence,France, Virtual tours 360°
Vaison la Romaine 84110
Situated at 27km north east of Orange by the D975
The Roman city:
Vaison la Romaine Roman and medieval cited the Vaucluse is one of the main tourist hub of the department Vaucluse thanks to its wealth of historical relics: On the right bank of the river Ouvèze are two neighborhoods, the ancient site Roman colony and the modern part of Vaison.
Video 360° la Haute ville médiévale de Vaison la Romaine
Archaeological excavations have revealed huge and luxurious Gallo-Roman houses with elaborate interior design. They were decorated with mosaic floors, marble marquetry, statues, ponds, atriums and private thermal baths .. visit excavations and museum). The whole illustrates the daily life of two thousand years ago. On the left bank, leaning against a rock, lies the medieval town whose origins date back to the thirteenth century. In the Middle Ages, dominated by the castle ruins
In the twelfth century, the castle belonged to Agoult, Sault counts and the abbey of Saint-André Villeneuve-lès-Avignon owned a church. The walls were built in the fourteenth century, there are still some remains.
Virtual tour 360 ° of the ancient theater (3 views)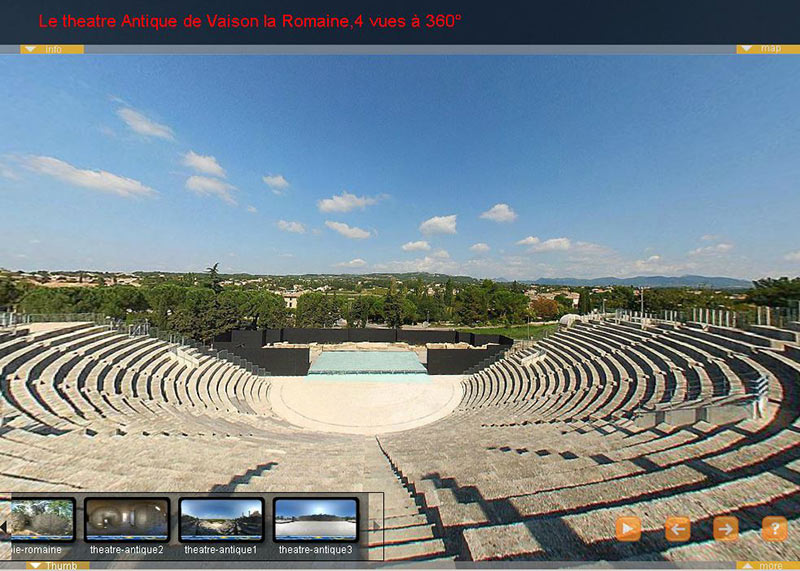 See the virtual tour 360° of the excavations Villasse, (6 views)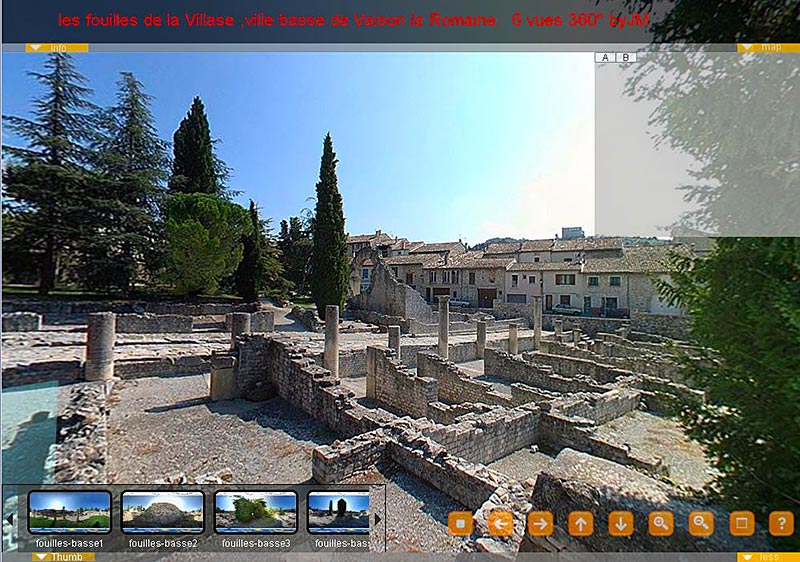 Historic sites to see: 
Gallo-Roman Era: Archaeological remains of Puymin sites and the Villasse, 17m wide Roman bridge.. 
Romanesque Era: ND de Nazareth Cathedral and its cloister (between VI and XIII) .Chapelle St Quenin and sculptures, ancient Theatre. 
Medieval Era: The Upper Town with its church built in 1464, the belfry. 
Hobbies: 
Choralies every 4 years, concert and festival in the ancient theater, Market on Tuesday morning. Hiking, horseback riding and VTT.Piscine. Tennis.Mini-gol, Pêche.Canoë kayaking, swimming pool, river swimming, Cinema. Night-club. 
Lodging: 
Hotels. campsites. Guest houses. Gites. Many restaurants