Le Vaucluse,Wineyard village,Haut-Vaucluse,Provence,France
CAMARET SUR AIGUES 84850
Camaret sur Aygues(84850),Population:4 596 hab habitants, altitude:72 m min:56m - max: 97m
Located on the road called the Princes 6 km to the east of ' Orange on the D 975.
On the old road of the Princes of Orange connects the village to Vaison la Romaine. We found an ancient place of worship dating from about 2000 BC. JC Saint Martin on the hill, just outside the village. Camaret sur ​​Aigues fortified village has several access doors inside the walls: there is a square Saracen tower, built in the thirteenth century.
The Ravelin: Old guard that defended the main entrance to the fortified village, was originally composed of two towers. In 1683, a vault was added and allowed the del'horloge installation and wrought iron campanile. The current reconstruction from 1708, and 1750 for the platform.

. The Beque house, mansion built in 1750 now houses exhibitions.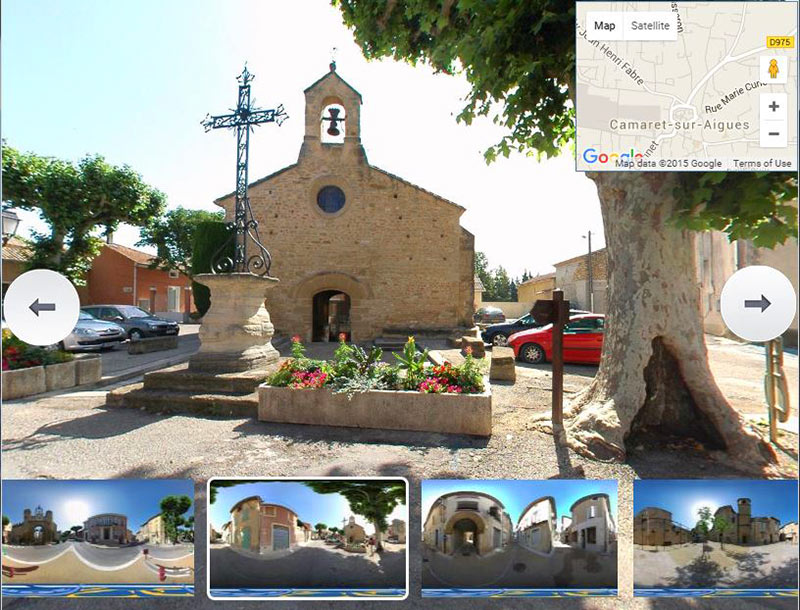 La Chapelle Saint Andéol Built on the remains of an eighth century chapel, the Chapel Saint Andéol was built in the Romanesque style in the twelfth century and rebuilt in the fifteenth (between 1420 and 1450) 
La Chapelle Saint Coeur de Marie Situated outside the village, it was bequeathed to the Catholics in 1860 by Miss Adelaide REBOUL,

The food industry such as Nestlé France and a tomato cannery The Shed. 
with viticulture ensures the prosperity of the village .Camaret benefited from the appellation of Côtes du Rhône and Côtes du Rhône village. 
Six private cellars to perform and bottling direct selling. there are also preparing plans parent vines (American vines) 
that supplies plants to graft the main European vineyards.
To visit: 
Chapel of Our Lady of Aubune (IX ° and X °) Prehistoric Caves of Ambrosi and Rocalinaud, Remains of the ancient castle féodalle the village, ramparts, fontaines.Le oil mill, The muscat wine cellar . 
Hobbies: 
Hiking pedestrian and equestrian, ball.Night motorcycle club, tennis, fishing, 
Accommodation: 
Restaurants. Guest houses.

Info: Mairie de Camaret: the South Course - 84850 Camaret-sur-Aigues Tel April 90 37 22 60 - Fax 04 90 37 72 33 - http://www.camaret.org