Discovery Visit Vacqueyras ,wine village of Vaucluse, Photo Gallery,Provence,France tourism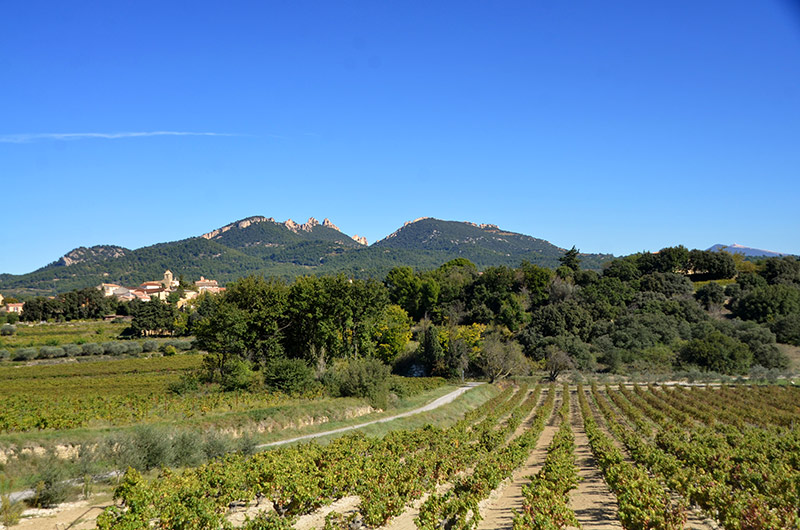 Voir Toutes Les Galeries
Le Vaucluse wine villages :Vacqueyras
Vacqueyras 84390
Population: 1 076 Inhabitants, altitude: Min. 68 m – Max. 254 m
Located 11 km north west of Carpentras on the D7 20 km east of Orange by the D975 then the D8 21 km south of Vaison-la-Romaine by the D977 and D88. Located in the Vaucluse, in the middle of the triangle Orange , Vaison la Romaine and Carpentras the village is circular, narrow streets leading to the outer walls of the castle and the church. 
Vacqueyras produces one of three great vintages of Côtes du Rhône Vaucluse, whose vineyard is spread to the foot of Dentelles . The Provencal bell tower stands on top of a tower of the twelfth century. 
During the Stassart, lined with plane trees is a creation of the nineteenth century, replacing the old ditches of the ramparts. 
towards Sarrians, a ballad dansl'Espace Botany Coste Coa present in 10 acres of multiple botanical trails and marked trail to observe the Mediterranean vegetation, its trees and aromatic plants 
Vacqueyras, is the village of the famous troubadours, Vacqueyras Rimbaut in the XI century, Knight's son, he juggler was at the court of the Prince of Orange ... we still talk about 9 centuries later !!
Events: 
early boulevard comedy Festival in July every night from 21:30 Location: 
church boulevard comedy festival with different troupes from throughout France shows every night on the steps of the church of Vacqueyras 
Historic sites: 
Sightseeing , seeing Guided village tour, visit to the cellars of the Botanical Trail vineyard, Laces Montmirail.Chapelle of Our Lady of Mercy (XVII) 
Hobbies: Tennis, fishing, bowling, hiking and équestre.Escalade, botanical trail 
Structures of Home: 
restaurants, guest tables, hotel, camping, catering tourism, guest houses, lodges.