The historic Vaucluse, Barry Troglodyte Village, Ballads and Hiking
Barry, Village troglodyte,Bollene 84390
This cave site is one of the finest and largest in France the village is perched on the side of a hill overlooking the Rhone Valley Tricastin in Orange, the site was occupied from the Neolithic up by the turn of the 19th century.  .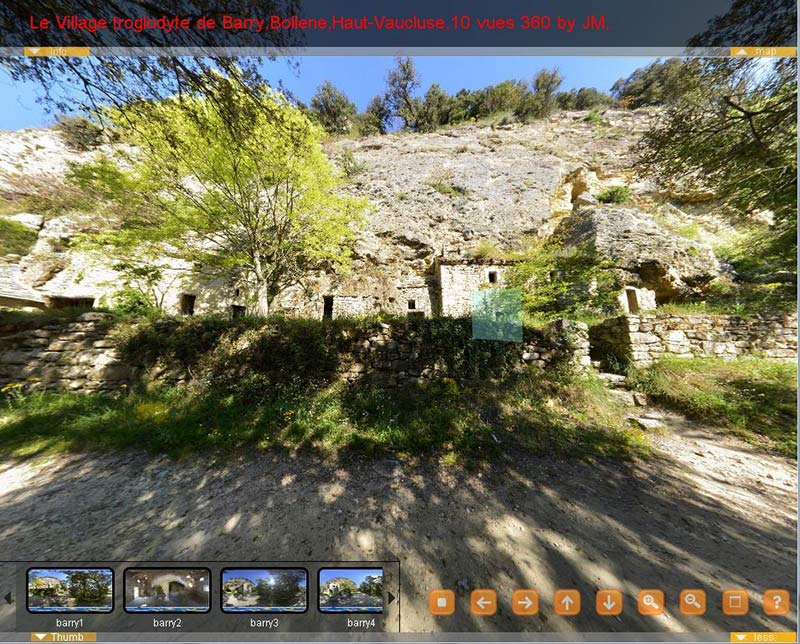 The walking tours are available at the Office of Bollène tourism and downloaded from the website
On the site there are remains of Celto-Ligurian, Romans until the nineteenth century. The medieval village on the rocky outcrop was defended by the castle XI and XII century The oppidum proto where there are some historians the city of Aeria, principal city Tricastins
The troglodyte village inhabited seventeenth to the nineteenth interest first visitors. Inside the houses, there is usually a main room around which are carved various alcoves such as wine vats, closets, fireplaces, sinks, Bugadière, tanks, etc. The village was abandoned in the late nineteenth century. Alarmed by the continuing landslide risk in poorly supported habitats and death of some of his members buried in their home, the population shrank in the hamlet of Saint Pierre de Senos. Above the troglodyte village, defended by the castle, you will find the site of the former medieval settlement. In the north, the remains of a brick wall again bar the passage of the easily accessible side. There are only traces of the medieval chapel. It was located south of the western end of the wall. In the north of the medieval village the Castle probably built in the XI XII century castle was a military unmanned by a lord. Its destruction probably dates back to the late fourteenth day with Gangs of Raimond de Turenne that devastated the region. The oppidum proto was a hotbed of Tricastini probable capital of this people. On the site there are only buried the heaps of shards and various pre-Roman Gallo-Roman ceramics and fragile testimonies of cultural and commercial ties with the first colonizers of Provence.
Guided tours for groups every day all year round by reservation Information Tourist Office at 04 90 40 51 45 - Following the landslides on the troglodyte village of Barry, the site remains closed (Municipal Decree No. 2009/041)