Le Vaucluse Historique:Richerenches commanderie des Templiers de Provence
RICHERENCHES: 84600
Population : 671 Inhabitants, Elevation: Min. 10 m — Max. 122 m
Located 7 km southwest of Valreas in the Enclave des Papes.
This small village is home to one of the oldest and most important commanderies Templar de Provence (XII). The commander, once "order chef" in the region, is sheltered by a wide surrounding wall flanked by four towers. It appears to be the best preserved of Provence
Visite virtuelle de Richerenches, 4 vues à 360°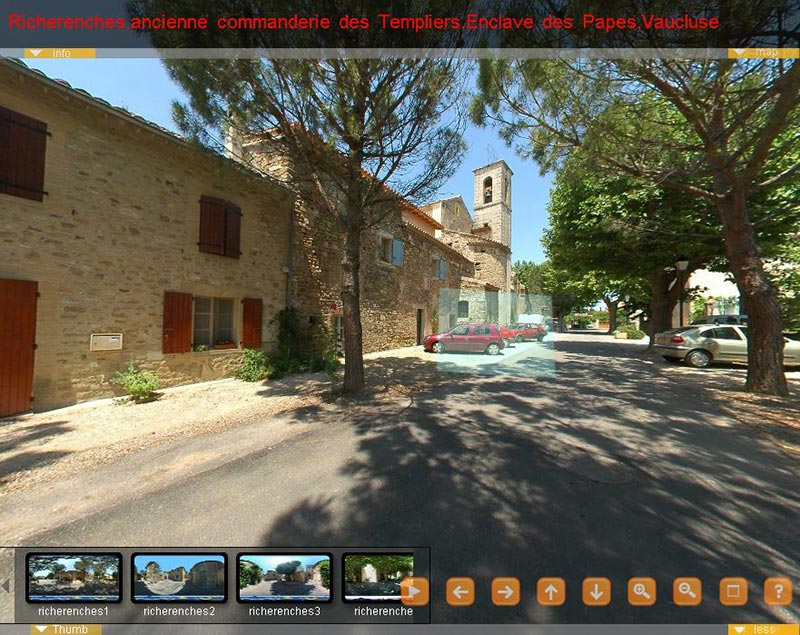 Lovers of old stones will fall under the charm of the village with its beautiful small streets and houses carefully restored. You will also come across a beautiful church and a belfry with archway. Richerenches is also one of the highlights of the quality of truffles. Rated "outstanding site for taste", he organizes them late November to April, the largest truffle market in France. In mid-January, takes place at the church Mass truffle where the quest is done ... truffle weighing offerings are offered and sold to the church. This ritual takes place the Sunday of St. Anthony (patron of truffle)
To visit: Templar (1136) .Tour Clock. The church. The belfry Chapel ND Good Meeting

Hobbies: Hiking and VTT.Tennis. Pétanque.Fête flowers 1 ° Sunday Mai.Marché truffle Saturday morning from November to April.
Events: Markets with truffles: These markets start around mid-November and continues through March.
Every Saturday morning, brokers, truffle growers, buyers, onlookers ... find themselves on the Avenue of the Rabasse. The truffle, armed with their production come early but markets only really alive only from 10:00. The conversations revolve around a single topic: the truffle. After fixing the price of truffles, transactions can begin: sellers, canvas bags in hand, head cars in cars to show their wares.
The Medieval Festival: 
In August, takes place the medieval festival in Richerenches, 
medieval Templar where lie the remains of the oldest Templar Provence.