Le sentier des Ocres de Roussillon, galerie photos,Vaucluse,Site naturel :
Le sentier des ocres de Roussillon 84220
Ochre is a natural pigment mixed with sand cliffs. The iron oxide colors the yellow to purple. This mineral landscape is the work of the erosion and man .Two courses allow a 30 minute visit to 60 minutes, without time limit, the course is illustrépar panels explanations on geology, flora, the history, the massive ocher of Luberon.Ce classified site is very fragile, merçi of compliance with the safety guidelines to enjoy the mineral travel 110 million years! Dogs on leash are allowed on the site 
History Site:
Roussillon,Ballade sentier des Ocres video 360°
Roussillon,sentier des Ocres vidrtual tour 360°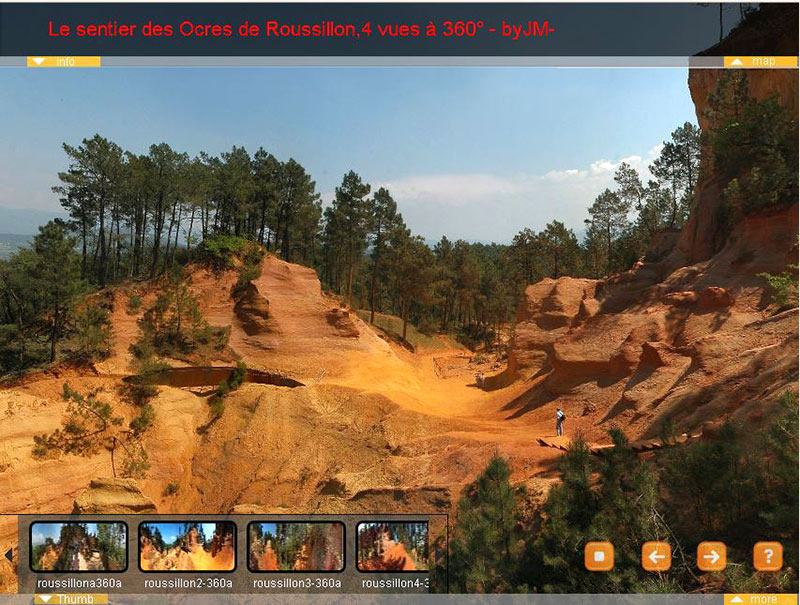 There are 230 million years, Provence is covered by the sea, pPlusieurs thousands of meters of sediment accumulate into the depths. They subsequently form the white limestone features of Provence: Mont Ventoux, Luberon, Sainte Victoire, Verdon canyon, creeks etc.Vers 110 million years sediments that settle into the bottom of gray clays that are come to cover the limestone called by geologists "Aptian land" .After this long period due to land movements, Provence finds himself out of the water. 
The climate is tropical. Heavy rains leach greensand emerged the continent, turning slowly into ocher sand, followed by white sands, 
- dissolution by rainwater elements forming the greensand, except the sand itself very resistant. 
- Crystallization from other minerals, kaolinite and goethite, which fill the spaces between the sand grains. This is the birth of ocher sands. 
- leaching the ocher sands evacuates iron hydroxide which stains. Do not remain in place as the white sands. 
On the surface, iron hydroxide is concentrated to form a ferruginous crust similar to that of African laterites. 
As for the red, yellow or orange ocher sands of these, it still keeps part of his secret.

Tours of Provence ochres a see Ochres Mormoiron and Villes sur Auzon at the foot of Mont Ventoux and the Provençal Colorado of Rustrel has Gignac , the Careers of Gargas ochres , the Concervatoires Ochre of Roussillon