Isle sur la Sorgue,Venice of Provence, "Pays des Sorgues" Video clip - Galerie Photos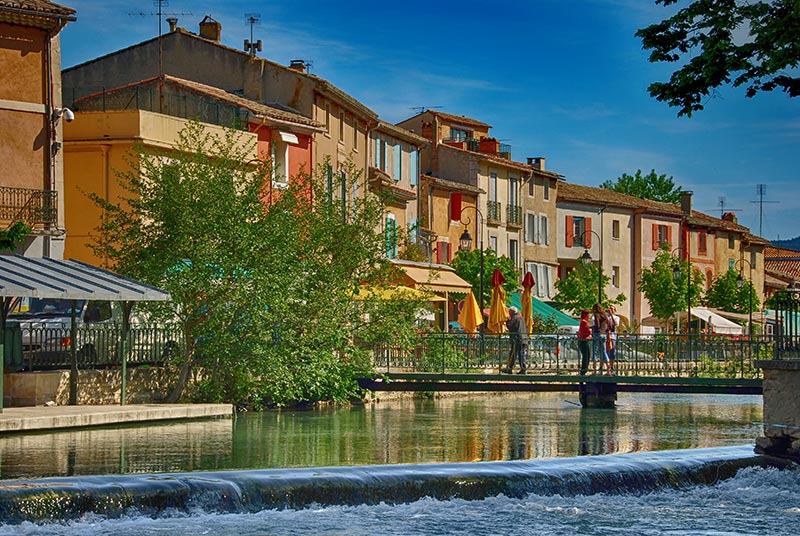 Voir la vidéo
Voir Toutes Les Galeries
Le Vaucluse
ISLE SUR LA SORGUE 84800
Population :19 086 inhabitants, altitude:500m, altitude: Min. 10 m — Max. 122 m
25 km east of Avignon between Cavaillon and Carpentras A8: Cavaillon or Avignon south exit. Marseille airport 70 Km,
Known as the Venice of Provence as several channels and arm of the Sorgue that arises from the Fontaine de Vaucluse a few kilometers wandering in the city. Isle sur la Sorgue sharing between tourism, agriculture and trade of Antiquities in the agricultural plain of Comtat Venaissin , Here recreation are numerous: down the Sorgue in canoe from Fontaine de Vaucluse, to the sharing of the waters or river splits into two branches that supply the city and many small canals. also navigates the Sorgue arm with small boats of fishermen flat bottom the "me-hong"" ,
Video 1 Course de négo-chin à l'Isle sur la Sorgue
On Sunday morning, one of the most beautiful Provence market unfolds on the waterfront and throughout the town, near the church we go drink coffee in the cafe of France willy Ronis immortalized in the 70s Today association continues the tradition of the boats and organizes races.Formerly, the inhabitants lived on fishing (up to 15,000 crayfish a day!), In the eighteenth large paddle wheels were used as "engine" to many silk factories, and in the nineteenth to paper factories. Some wheels still turn ...
To see: 
The Collegiate Dame des Anges with its baroque interior, the famous Hotel Donadeï Campredon (XVIII), now a museum, which permanently houses the Museum of René Char and temporary exhibitions. L'Isle sur la Sorgue today enjoys an international reputation thanks to the many antique shops spread across the city, twice a year, at Easter and in August 15 more than 500 antique shops give themselves appointment here to present their treasures to a clientele coming from the 4 corners of the world ... 
To visit: 
Collegiate Church of Our Lady of Angels. Hospital Pharmacy and earthenware collection Moustiers.Ancien granary (occupied by the tourist office) .Hotel Donadeï Campredon (museum art gallery). 6 antique villages spread over the city. 
Hobbies: 
Sunday market walking and horse matin.Randonnées. Pool. Tennis. Golf 18 holes. Pêche.Canoë kayaking 
Accommodation: 
Hotels. 9 Hotels-restaurants. 1 campsite. 2 Natural Areas B camping.Chambres. Gites. Many restaurants